We're your neighborhood's electrician...
We've got the power you need! Our trained electricians are the best in the industry, and can repair any issue, guaranteed! From installations to emergencies, big or small... our electricians can perform the job. We're not the big guy, but that just means we can offer quality local service, focusing on the relationship and getting you the things you need to enjoy life!
Why call us first:
We are easy to reach - Real people answer our phones, not machines.
1,000's of parts on our trucks - For on the spot repairs in your home or business.
Well Trained Courteous Technicians - we successfully perform repair to thousands of electrical problems every year.
Up Front Guaranteed Pricing - you know the price before the work begins.
24 hour emergency service.
Quick response time.
Trained electricians.
Personalized scheduling.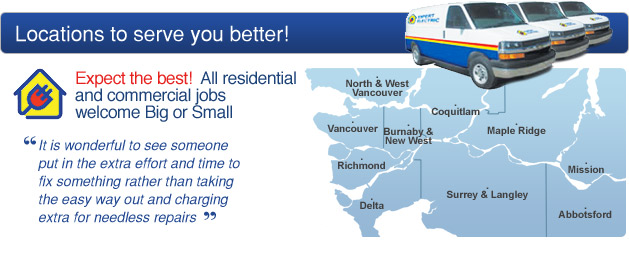 At Expert Electric we strive to offer the highest level of service, and we value every customer that chooses to work with our company. We also value and appreciate it when our happy customers refer our services to their friends, family and colleagues. So, we've created a referral reward program that will pay you $25 for every referral that becomes an Expert Electric customer.
How it works: Simply fill in this referral form, and if the person/company you referred to Expert Electric becomes a customer, we'll mail you a cheque for $25.
Thank you for supporting Expert Electric!